USAPA Standard Pro Pickleball Paddles; Widebody pickleball racket shape with 4.72" grip length and 4.25'' grip circumference; pickleball paddle Face Dimensions: 10.71" L x 7.80" W x 0.43" H Lightweight pickleball paddle 8oz; Niupipo pickleball racket can withstand any challenges on the court; Having a high-quality Carbon Fiber pickleball set can completely transform your game.
Less Stress On Elbow and Shoulder; The pickleball rackets are noticeably lighter than most paddles, which allows for a longtime play without fatigue; It can also effectually reduce your elbow and shoulder stress while gaming; Edge protection is provided for ground hits; Low-profile edge guard protects the edges of pickleball paddle, yet slim enough to reduce mishits.
Premium Grip, Perfect Handle Size; The pickleball paddles are comfortable to handle and work well while in gameplay; The USAPA standard pro pickleball set is perforated, sweat-absorbent, and cushioned, to allow for a better paddle grip.
More Power and Less Noise; The pickleball paddle set is made of a Carbon Fiber face and Polypropylene-honeycomb composition for an ideal level of strength and stiffness with a surprisingly lightweight; The Fiberglass face has more power than graphite face which can cushion each hit with supper pop; Polypropylene is softer and has larger honeycomb cells, this is a good material that holds up well; Because it's a softer material it is quieter and has great power.
Ideal Set for All Levels; Niupipo Pickleball Paddles includes 2 durable fiberglass pickleball paddles, 2 indoor and 2 outdoor pickleball balls, 2 grip tapes, and 1 convenient pickleball bag; providing everything you need for playing pickleball with your family/friends/couples. A high-quality fiberglass pickleball set can definitely alter a player's game. Show love for your family by providing them with the finest connection.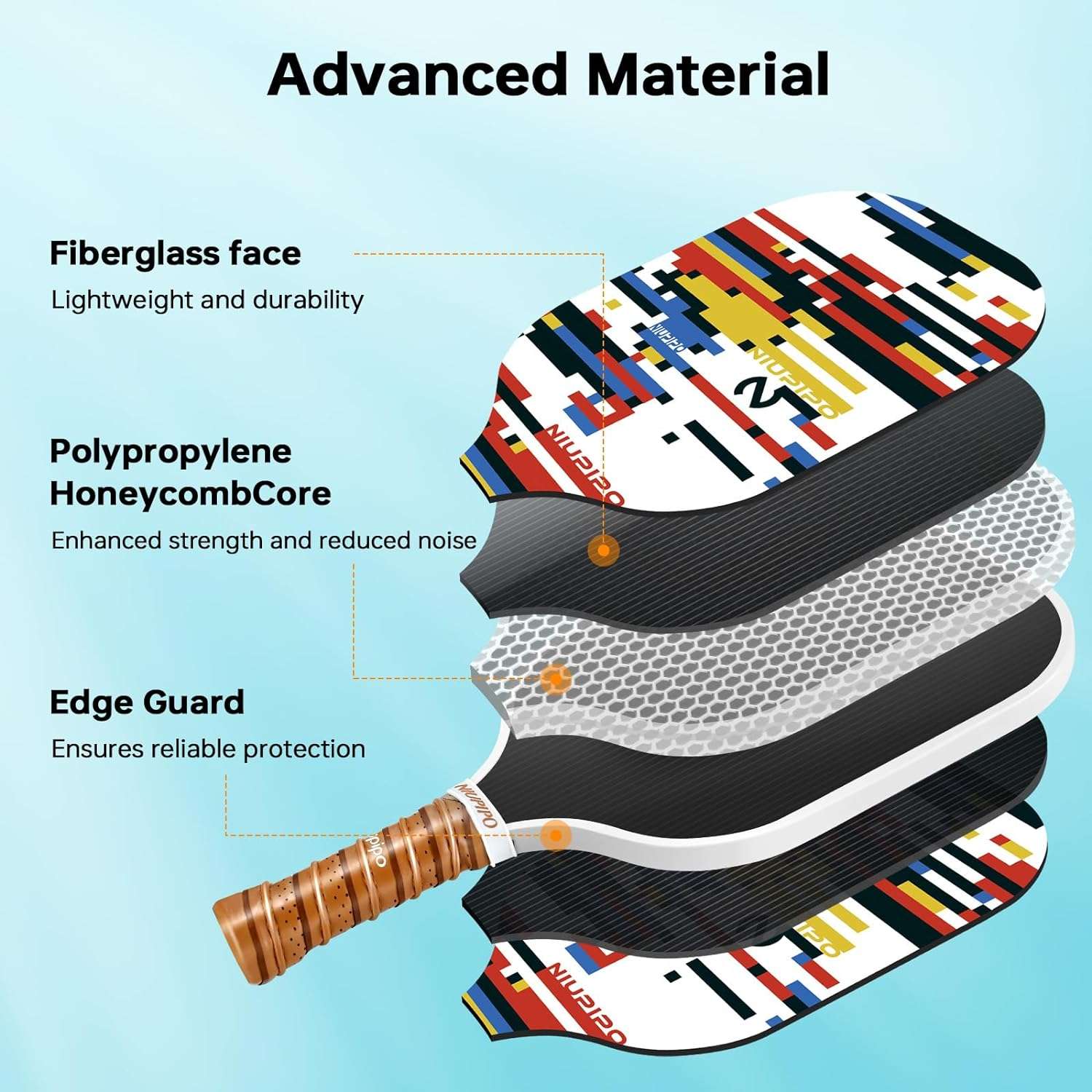 This is a paddle that suits your style and skill level, gain more power and accuracy thanks to its improved carbon fiber surface that gives you better grip and spin on the ball. Plus, the larger sweet spot means you can hit the ball with more power, even if you miss the center of the paddle. Whether you're a beginner or a pro, the MX-52 Pickleball Paddle will take your game to the next level.
Lightweight and Confortable
The MX-52 Pickleball Paddle is designed to reduce stress on your shoulder and elbow, so you can play longer and enjoy the game more. The lightweight material allows you to move faster and hit harder, while the comfortable grip ensures a secure and stable hold. Whether you are a beginner or a pro, you will love the feel and performance of this paddle. Order yours today and experience the difference!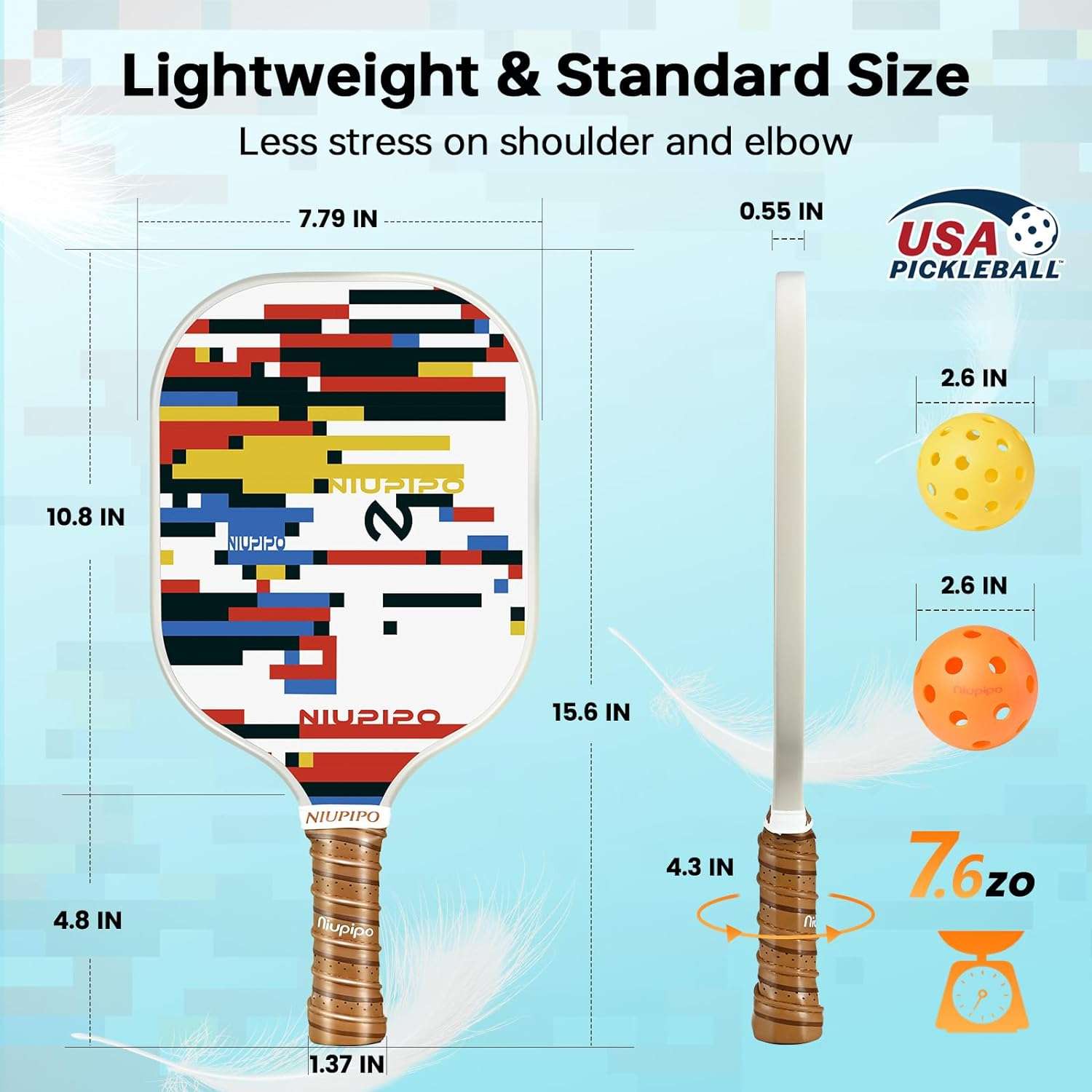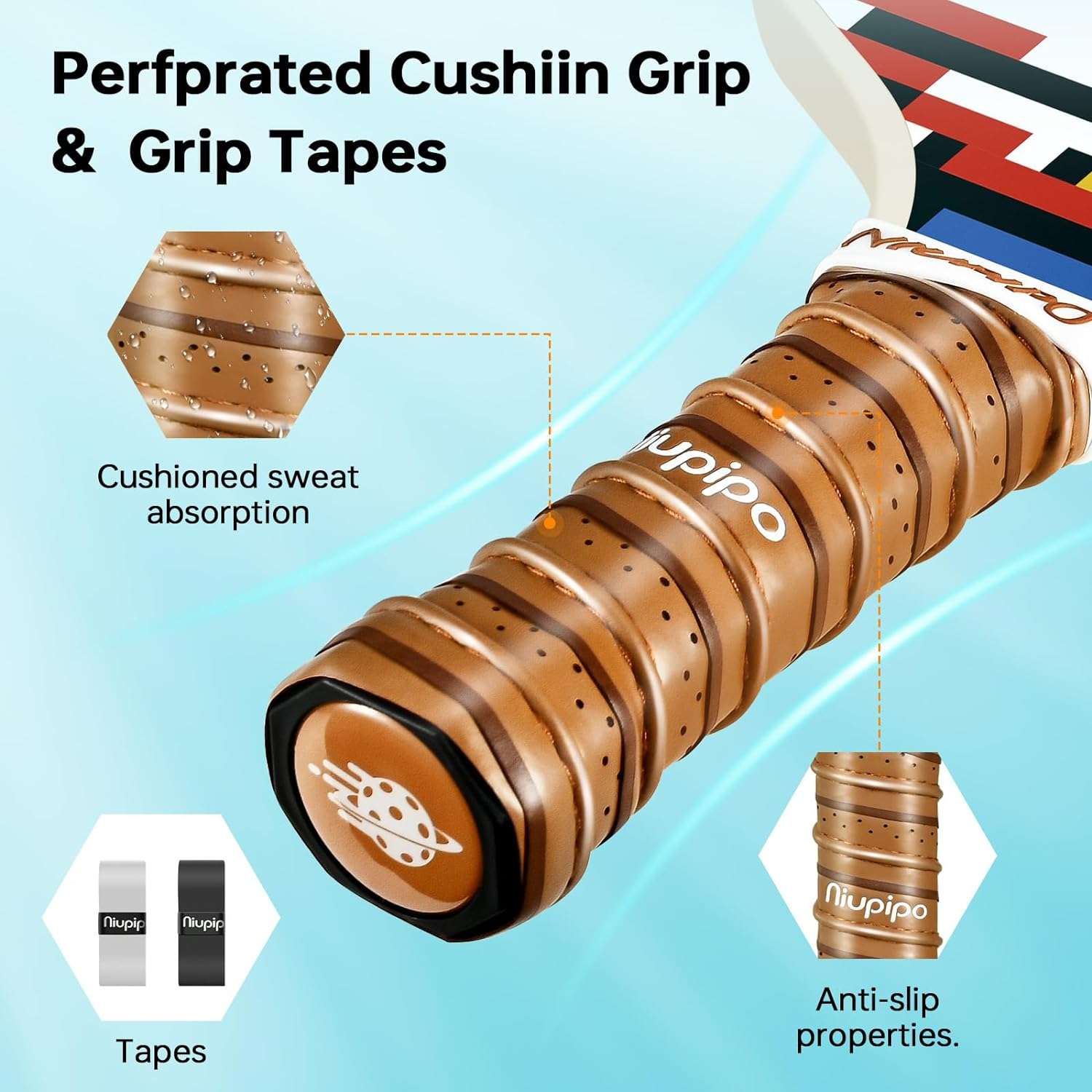 Be in Control of the Situation
This paddle features a specially designed handle that provides a comfortable and secure grip, even when your palms are sweaty. The better grip allows you to swing faster, hit harder, and control the ball better.
Indoor and Outdoor Balls Included: This set comes with 2 indoor and 2 outdoor balls included ensuring you're well-equipped to enjoy the game no matter where you play.
Carry Bag Included: Our custom designed carry bag ensures that you can carry around your paddle safe and in style.
Extra Grip Tapes: Many pro players wrap their paddles with overgrips. Its function is very simple, shock absorption, sweat absorption, and anti-slip. This paddle set comes with 2 replaceable grip tapes.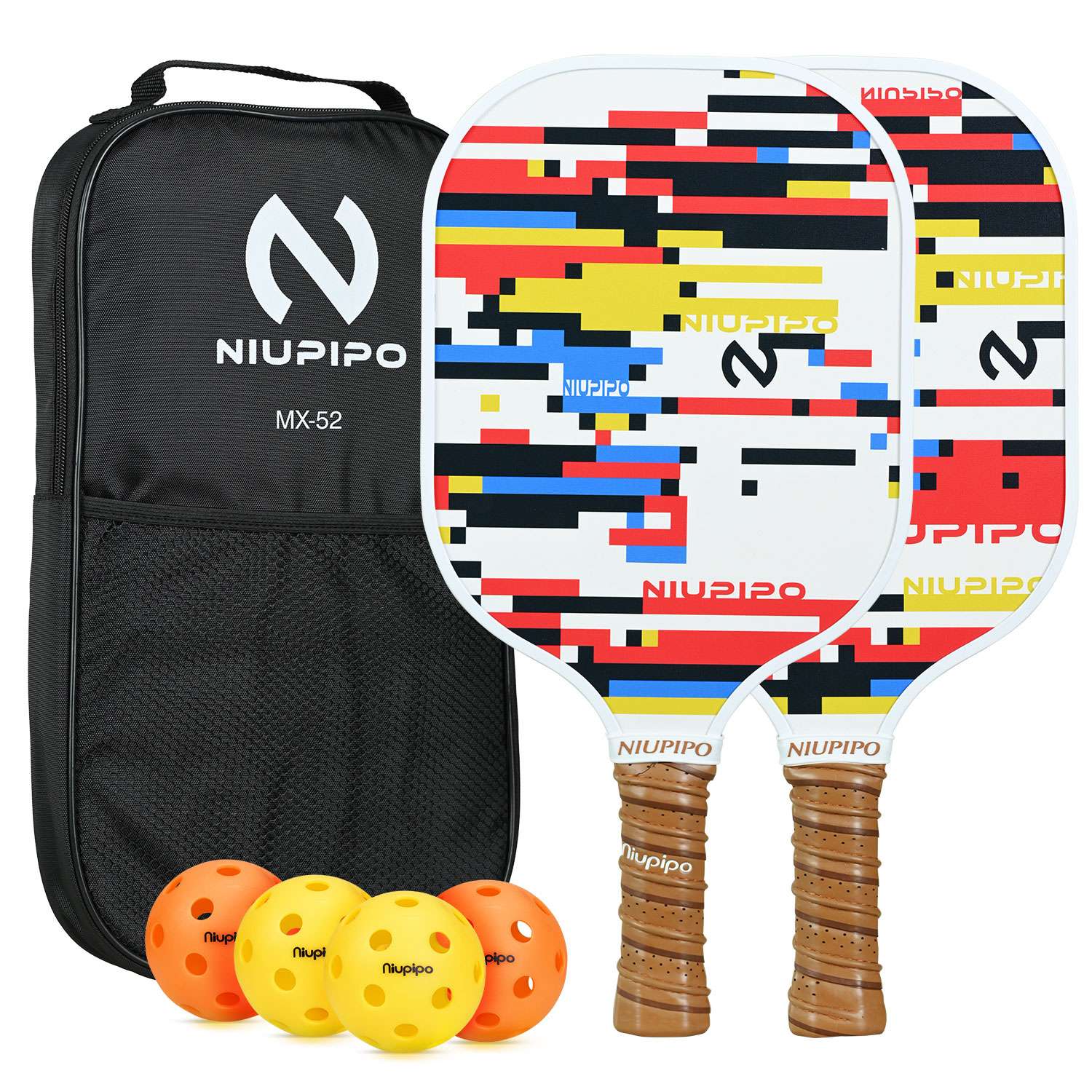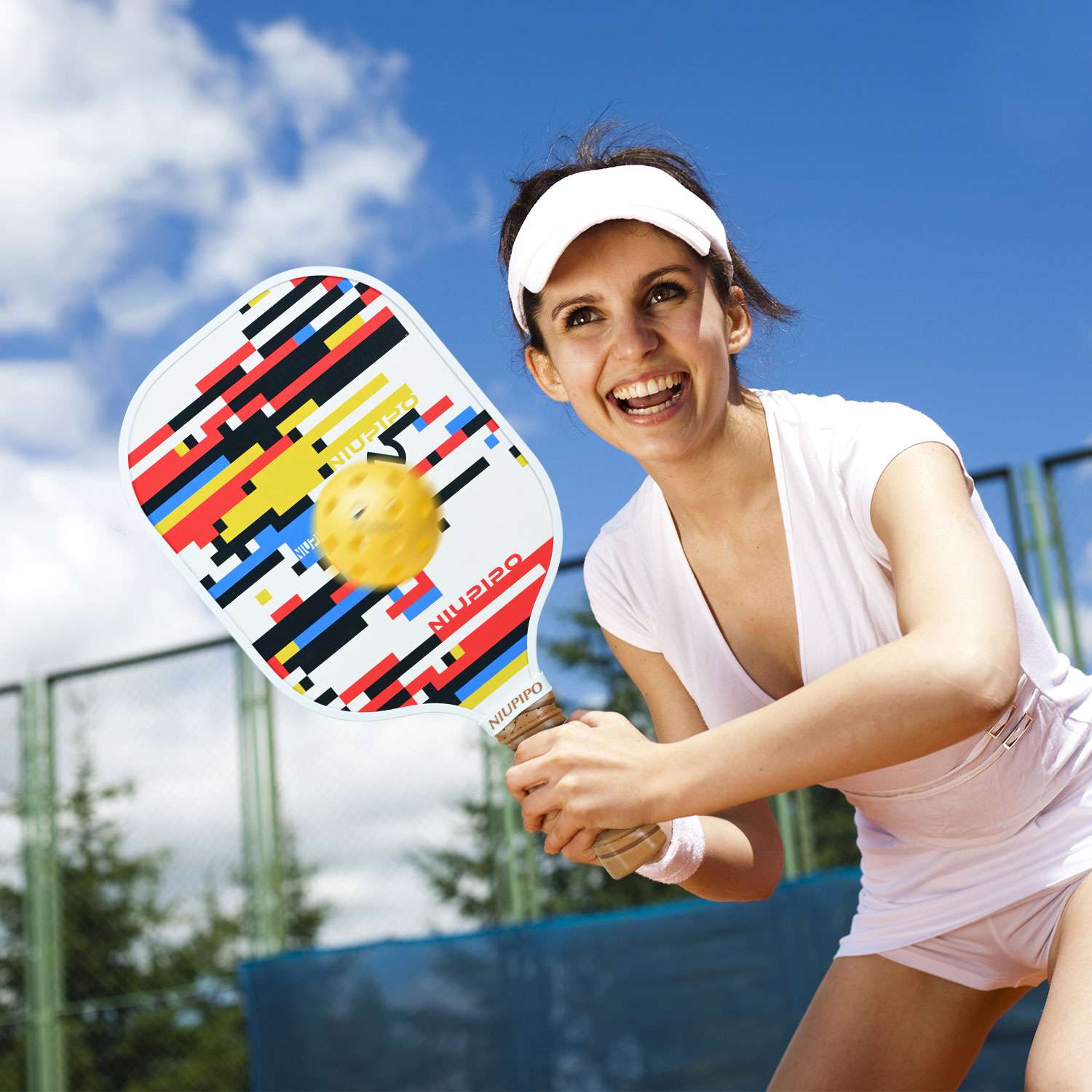 Why Choose Niupipo Pickleball Paddles?
The Niupipo pickleball sports has been chosen by hundreds of players worldwide. Our cutting-edge manufacturing techniques are the most advanced in the pickleball equipment market. We are confident to announce that niupipo is one of the most popular pickleball brand in the market for over two decades. This will be the first and best choice of the pickleball for beginners to intermediate players.
Pickleball Specifications
Package Contents: 1 Bag / 2 Outdoor Balls & 2 Indoor Balls / 2 Paddles / 2 Grip Tapes
Model Number: MX-52
Paddle Dimensions: 15.6 x 7.79 x 0.55 Inches
Paddle Weight: 7.6-7.8Oz
Facing Material: Carbon fiber
Core Material: Polypropylene Honeycomb
Balls Weight: 0.81-0.88 oz
Balls Diameter: 2.87"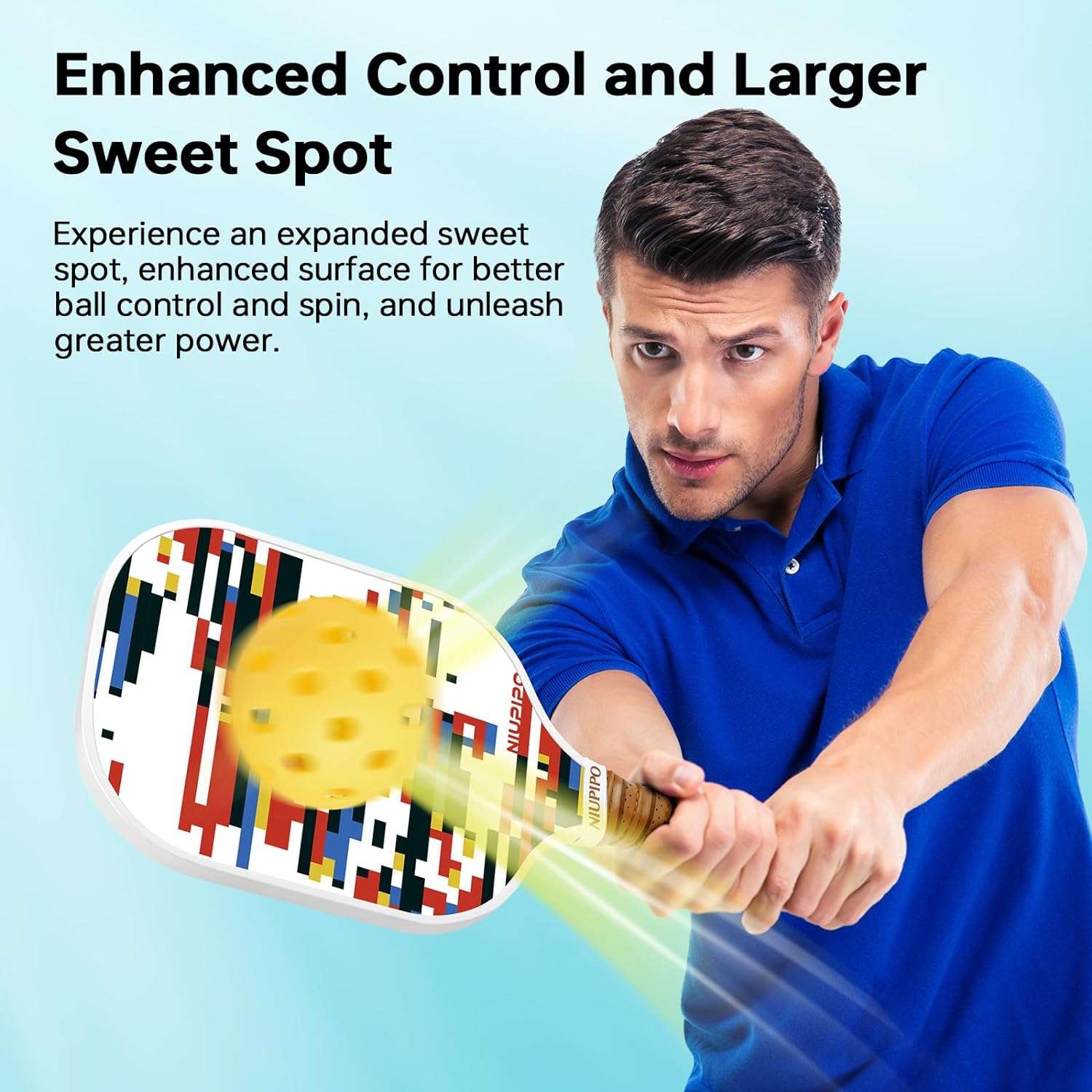 Free Shipping to US & Canada
In your hands within 2-7 days
Sign-up to 12+3 Month Extended Warranty
What Our Customers Are Saying
Customer Reviews 4.7 out of 5 | More than 1.500 reviews on Amazon Store